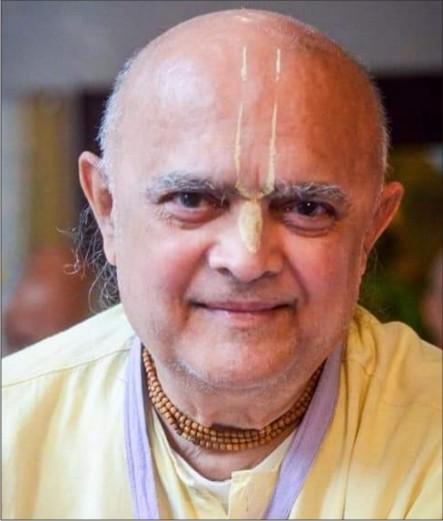 Jamnagar Ta. 24: ISKCON-Gujarat's 72-year-old President Pu. Jashomatinandandasji's Vaikunthagaman Nij Aso Sud Aatham on Saturday, Dt 26. It happened on the evening of 28-10-2020. He propagated devotion to Lord Krishna in Gujarat for 25 years. Inspired by him, more than 50 temple centers were established in Gujarat.
ISKCON Temple-Rajkot President Vaishnav Seva Dasji said that ISKCON-Gujarat President Poo. Jashomatinandandasji's Vaikunthagaman has taken place on Saturday evening, October 26, 2018, Nij Aso Sud VIII. He was admitted to the hospital for the last 10 days due to ill health. With their departure, the founder of ISKCON-Gujarat, Karmath and Param Krishna Bhakt has been lost. Many devotees said goodbye to him with watery eyes.
He said that Poo. Jashomatinandandasji made important contribution in the establishment of Gujarat ISKCON from the year 135. In the early days in Rajkot, they used to spread the name of Lord Krishna on bicycles by going from street to street. P.P. ISKCON Temple-Rajkot and ISKCON Temple-Dwarka were constructed by Mahavishnu Goswami Maharaj similar to 'Pride of Saurashtra'. Jashomatinandan Prabhuji has played an important role in this by providing guidance as well as cooperation. Our former finance minister Vajubhai Wala as well as Prime Minister Narendra Modi are also his personal friends.
He said that Poo. Inspired by Jashomatinandandasji, ISKCON's activities were developed all over Gujarat. Under which about 40 temples and centers have been established all over Gujarat with his inspiration. Many scholars were also keen to hear him, especially as he had a knack for discourse on the Chaitanyacharitramrut Granth. Under his guidance, total ISKCON centers have been developed all over Gujarat.
Devotees prayed that Srila Prabhupada would take them to another planet to do teaching activities. All Kઘઘઘa devotees feel heartbroken that we have lost such a spiritual person. From the outside it was like lightning, but from the inside it was as soft as the petals of a rose. Not a single day that he sent anyone without taking prasad. The way he has fought all his life to uphold the principles of Srila Prabhupada is exemplary.
Words are inexhaustible to describe his qualities and kindness. Jashomatinandan Prabhuji, the pillar of ISKCON, will be permanently lost. Shri Vaishnavdas Prabhu, President of Rajkot ISKCON Temple and Shri Murlidhardas Prabhu, President of Jamnagar ISKCON Temple have sent condolences.